See you in March & hopefully we'll smash the reds..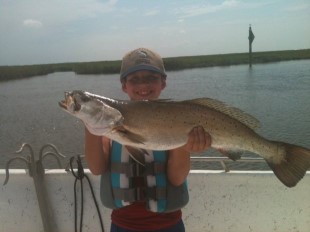 ---
Patrick McFarlin said: April 17th, 2013 7:34 pm
My wife and have been fishing with Captain GaryMan for years and although no two trips are the same, we've always had a great experience on the water. Captain Peloquin is very patient and a great teacher but he always seems to know some little trick to produce results. He even occasionally allows a Wyoming 'Yankee' to out fish him, which is of course a testament to his character and humility as an accommodating guide. Great times with Capt Gary, I garauuuuntee, Patrick McFarlin Jackson Hole, Wyoming
---
Lisa Danzy Clarius — 5 starCap. Gary and excellent guide and a great person to fish with.. My husband and I had an excellent time fishing with Gary.. By mid morning we had limited out on Reds, then we went after the Specs – Got on them … I was catching a Spec on every cast… Literally, every cast … We ran out of live bait but by this time I had limited out on the Specs too.. One of the best fishing trips I have had in a LONG TIME… You know they say you can tell a lot about a person by the way they fish… well this saying is so true… Cap. Gary is an excellent person… do you self a favor and go fishing with Captain Gary… thank you Gary.
---
Russel Sarpy — 5 star5 star. Our guide mat was awesome. We fished today and maxed limit on red fish and caught more fish then we ever expected. It was great and I can't wait to go again. Lodging was also awesome.
---
Hackberry Guide Service Fishing – Calcasieu Lake